MANY THEATERS ARE NOW CLOSED. WE WILL CONTINUE TO POST UPDATES.
Postcards from London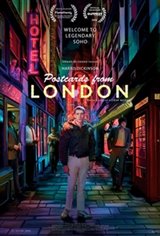 ---
Beautiful Essex boy Jim (British rising star Harris Dickinson) who, having traveled from the suburbs, finds himself in Soho searching for fame, fortune and cultural stimulation. Down on his luck, he meets with a gang of unusual high class male escorts The Raconteurs who specialize in post-coital conversation.
What follows is Jim's comic descent from unsuccessful escort, to artist's muse and art authenticator - a journey complicated by a rare psychosomatic condition called 'Stendhal Syndrome'. Rendering him painfully oversensitive to art, the condition threatens to bring about is downfall whilst opening him up to new opportunities - but is Jim willing to grab them?
---
Change Location