MANY THEATERS ARE NOW CLOSED. WE WILL CONTINUE TO POST UPDATES.
People's Republic of Desire
People's Republic of Desire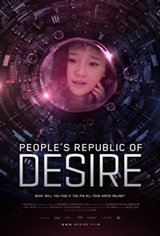 ---
In an increasingly digital universe where live streamers earn as much as $200,000 a month, can virtual relationships replace real-life human connection? PEOPLE'S REPUBLIC OF DESIRE tells the stories of two such online stars who have risen from isolation to fame and fortune on NASDAQ-listed YY, China's largest live streaming platform.
---
Change Location