MANY THEATERS ARE NOW CLOSED. WE WILL CONTINUE TO POST UPDATES.
My Son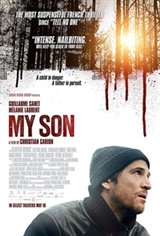 0 votes and 0 Reviews
Rotten Tomatoes® Score


55%

10%
In Theaters: May 10, 2019 (limited)
Drama
---
After years of putting his career above his family, Julien (Guillaume Canet) has found himself with a failed marriage. One day he receives a distressing message from his ex-wife (Mélanie Laurent) that their seven-year-old son has disappeared while at camp. When authorities provide little help, Julien takes matters into his own hands. Fueled by his sense of guilt about neglecting his family, he is determined to do whatever it takes to find his son. That includes using physical force against anyone he speculates could be a suspect in the kidnapping - and disobeying police instructions by stepping outside of the law, as he begins to unfold the mystery of the boy's disappearance.
---
Change Location