MANY THEATERS ARE NOW CLOSED DUE TO COVID-19. WE WILL CONTINUE TO POST UPDATES.
MTKC - Into the Woods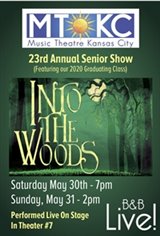 ---
In a unique world of fractured fairy tales, Into the Woods follows a Baker andhis wife, who wish to have a child; Cinderella, who wishes to attend the King'sFestival; and Jack, who wishes his cow would give milk. When the Baker andhis wife learn that they cannot have a child because of a Witch's curse, the twoset off on a journey to break the curse.
Everyone's wish is granted, but theconsequences of their actions return to haunt them with life-changing results.
---
Change Location