MANY THEATERS ARE NOW CLOSED. WE WILL CONTINUE TO POST UPDATES.
Mr. Right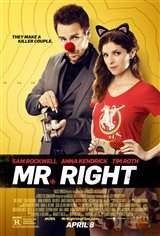 6 votes and 0 Reviews
In Theaters: April 8, 2016 (limited)
R | 1h 35m | Action/Adventure, Comedy, Romance
---
Martha's (Anna Kendrick) behaviour has gone a bit overboard since her latest breakup. It's only matched by that of the charming Francis (Sam Rockwell). Francis asks her out and it seems likes she's found her perfect match - except Francis is actually rather dangerous.
Francis kills the people who hire him to kill people and Martha is just starting to realize it. When Francis is hired by a client who's being chased by an FBI agent (Tim Roth), Martha must decide whether to run away or stay with her sort-of hitman boyfriend.
---
Change Location