MANY THEATERS ARE NOW CLOSED. WE WILL CONTINUE TO POST UPDATES.
Manikarnika (Telugu)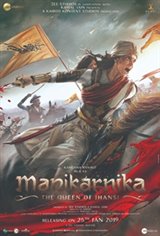 ---
Manikarnika - The Queen of Jhansi is the real life story of the warrior queen. She was the first woman in history to fight against the British and started the first war for Independence. The 22-year-old queen refused to cede Jhansi to the British.
Dressed as a man, she fought a fierce battle and was killed in combat but her inspiring life story and fight against the British is an inspiring tale of bravery, valor and women's strength that has inspired generations after her and will inspire generations to come.
---
Change Location