MANY THEATERS ARE NOW CLOSED. WE WILL CONTINUE TO POST UPDATES.
Last Moment of Clarity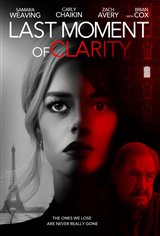 0 votes and 0 Reviews
On DVD/Blu-ray: May 19, 2020
On Digital: May 19, 2020
On VOD: May 19, 2020
1h 30m | Thriller
---
When Sam (Zach Avery) witnesses something through a window that he wasn't supposed to see, two men subsequently enter his Brooklyn apartment and kill his fiancée, Georgia (Samara Weaving). He escapes and flees to Paris, where he goes into hiding. He researches the man he saw through the window — real estate developer Demisovski — and cuts out clippings, trying to piece together what happened.
Three years later, Sam is working in a bar run by Gilles (Brian Cox), who tries to convince him that whatever happened in the past, it's best to put it behind him. But when he sees an actress in a movie who's a dead ringer for Georgia, he has to find out if the actress is actually his fiancée.
---
Change Location