MANY THEATERS ARE NOW CLOSED. WE WILL CONTINUE TO POST UPDATES.
I'm Not Here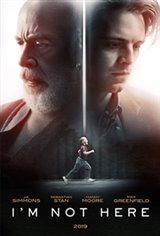 ---
Steve is haunted by his past as every object in his home, every sound he hears reminds him of a specific event in his life. Steve connects the events of his life to discover how he ended up alone and broken. As he relives each significant memory, he understands the generational issues that have held him captive like his father before him.
Can he move past the pain and forgive his trespassers, and more importantly, forgive himself?
---
Change Location