MANY THEATERS ARE NOW CLOSED. WE WILL CONTINUE TO POST UPDATES.
I Love Lucy: A Colorized Celebration
I Love Lucy: A Colorized Celebration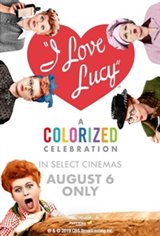 ---
Fathom Events and CBS will present 5 uncut, full-length colorized episodes on Lucille Ball's Birthday, August 6, plus REDHEAD TALES - a newly produced and never-before-seen featurette on the colorization of I Love Lucy, and an exclusive mini poster! Lucy Does a TV Commercial: In this classic "I Love Lucy" episode, Lucy has angled her way onto Ricky's special as the show's pitch girl. Newly Colorized Footage! Job Switching: After Ricky and Fred get upset about the girls' spending, Lucy and Ethel go to work in a candy factory while the boys do the housework. L.A. at Last!: When the Ricardos and the Mertzes arrive in Hollywood, Lucy goes to the Brown Derby restaurant where her sighting of William Holden turns catastrophic.
---
Change Location