I Am Bruce Lee
Thank you for rating this movie!
Read your review below. Ratings will be added after 24 hours.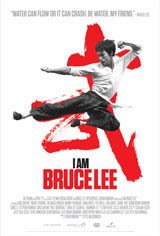 3.80 / 5
Based on 10 votes and 4 reviews
---
Please rate between 1 to 5 stars
Showing 1 to 4 of 4
March 18, 2012
a good documentary showing bl's legacy as done by his family (surviving daughter and wife, and other family friends) as well as those who knew him, admired him, were inspired by him, or influenced positively by him. naturally included aspects of racism. gave us clarity on a few things we didn't know or knew for sure. shared a few things we didn't know or saw. worth the see. (it was only shown twice in 2012 march at limited theatres (only one showing for the day); i saw the last 2nd single showing); the low popularity reflects very much our cultural widespread disinterest and suppression of bl's ethnicity here in the west to this day.
March 10, 2012
good story
March 07, 2012
i have been a bruce lee fan since i was 11 years old, that was in 1974, when i first saw him in the way of the dragon i was azaemd and still i am azaemd today!poverty was great in our house but the money i received by working when i was young was enough to see all of his movies and to buy a poster at the entrance of the theater. thanks bruce for all the memories and greatfull towards your family for keeping your memory up !cheers and greetings from belgium!!!
March 06, 2012
galba: yes, agreed about the point edrarging timing. i think the right message for the right person may not get acknowledged if the timing is not right for the person. when 7 habits came out, i thought it was a bunch of hot air, but after a few years i opened up my ears and now i'm one of its biggest fans stephen - i heard about getting things done but don't know much about it. maybe it will be the next 7 habits for me! i'll follow up with david allen's work.