MANY THEATERS ARE NOW CLOSED. WE WILL CONTINUE TO POST UPDATES.
Hey Hey It's Esther Blueburger
Hey Hey It's Esther Blueburger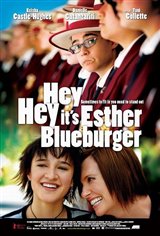 | 18 votes and 4 Reviews
Write a Review
PG-13 | 1h 43m | Comedy, Drama, Family
---
An engagingly original coming of age comedy that explores what it's really like to be an outsider in your own world. Esther is not like other girls; she befriends a duck, talks to God through the toilet and break-dances at her Bat Mitzvah. But life changes when Esther meets Sunni and she learns that it's ok to be different, and that being true to yourself is more important than fitting in!
---
Change Location