MANY THEATERS ARE NOW CLOSED DUE TO COVID-19. WE WILL CONTINUE TO POST UPDATES.
God Exists, Her Name is Petrunya
God Exists, Her Name is Petrunya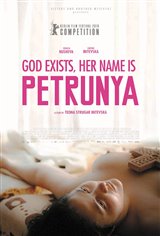 ---
Petronya, 32, has a degree in history but has only been able to land a job as a waitress. On her way home from a humiliating job interview for a secretarial position at a factory, she comes across the annual riverside Epiphany ritual in which men dive into the water to retrieve a sacred wooden cross thrown in by a priest. Even though the tradition does not allow women to participate, she dives into the icy water on a whim and gets the cross. This angers the 50 male participants and Petronya rushes home, fearful for her life. When a YouTube video of what happened attracts media attention, a news reporter questions the representatives of the two authorities in question: the Church, which demands the return of the cross, and the cowardly and conformist male police. The attention makes Petronya all the more convinced of her right to keep the cross, even as an angry mob of men forms outside her home.


| | |
| --- | --- |
| Director: | Teona Strugar Mitevska |
| Studio: | AZ Films |
| Producer(s): | Danijel Hocevar, Elie Meirovitz, Labina Mitevska, Marie Dubas, Sébastien Delloye, Zdenka Gold |
| Cast: | Zorica Nusheva, Labina Mitevska, Stefan Vujisic, Suad Begovski, Simeon Moni Damevski, Violeta Sapkovska, Petar Mircevski |
| Writer(s): | Teona Strugar Mitevska, Elma Tataragic |
---
Change Location