MANY THEATERS ARE NOW CLOSED. WE WILL CONTINUE TO POST UPDATES.
Euphoria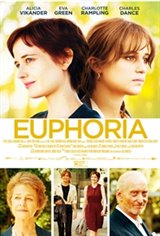 ---
Ines (Alicia Vikander) and Emilie (Eva Green) are two estranged sisters traveling through Europe toward a mysterious destination. Gradually, it becomes clear to Ines why she has been asked to accompany her sister.
Horrified at first, Ines fights to understand Emilie's intentions as the two women confront their unsettled past - and, more importantly, their future.
---
Change Location