MANY THEATERS ARE NOW CLOSED. WE WILL CONTINUE TO POST UPDATES.
Dwitiyo Purush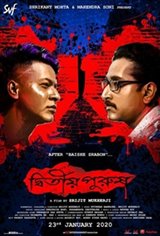 ---
In the year 1993, in Chinatown, Kolkata, a gang war takes place and leads to several murders. The police get involved but politics leads to the whole incident being covered up. Twenty-five years later the same thing begins to happen again, identical from the location to the pattern of killing.
In this spin-off to Baishe Srabon, Abhijit Prakashi and his assistant Rajat are once again confronted by a baffling mystery.
---
Change Location