MANY THEATERS ARE NOW CLOSED. WE WILL CONTINUE TO POST UPDATES.
Death Race 3: Inferno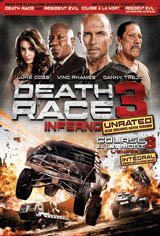 ---
Carl Lucas/Frankenstein is a star racer and has won four big races. But if he ever wants to get out of prison, he'll have to win one more. Just before the final race, Lucas and his team—including his car—are all transferred to another prison where they'll have to compete in a Death Race set in the middle of the scorching desert heat.
---
Change Location