MANY THEATERS ARE NOW CLOSED. WE WILL CONTINUE TO POST UPDATES.
Cinematheque at Home: Extra Ordinary
Cinematheque at Home: Extra Ordinary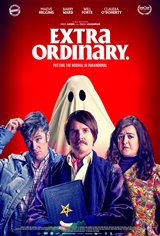 ---
Rose, a sweet, lonely driving instructor in rural Ireland, is gifted with supernatural abilities. Rose has a love/hate relationship with her 'talents' and tries to ignore the constant spirit related requests from locals – to exorcise possessed rubbish bins or haunted gravel. But! Christian Winter, a washed up, one-hit-wonder rock star, has made a pact with the devil for a return to greatness! He puts a spell on a local teenager – making her levitate. Her terrified father, Martin Martin, asks Rose to help save his daughter. Rose has to overcome the fear of her supernatural gift and work with Martin to save the girl, get the guy and be home in time for a light snack… maybe a yogurt or something.
Cinematheque at Home – curated by the Cinematheque – will offer new theatrical releases every week which our audiences can pay to stream through our website (by clicking the 'buy tickets' button). This is not only an opportunity for our patrons to see new cinema, but is an important way that they can continue to support independent film during this pandemic.
| | |
| --- | --- |
| Studio: | Winnipeg Cinematheque |
| Writer(s): | Mike Ahern, Enda Loughman |
---
Change Location