MANY THEATERS ARE NOW CLOSED. WE WILL CONTINUE TO POST UPDATES.
Buffalo Boys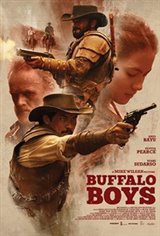 ---
In 19th Century Java, a brutal massacre and the murder of Sultan Hamza by Captain Van Trach and his Dutch soldiers force Arana, Jamar and Suwo - the sultan's brother and infant sons - to flee the country, bringing them halfway around the world to the American Wild West.
After working the railroads and learning the cowboy way of life, Arana tells the boys it's time to return to their homeland and avenge their father's death. Back on Indonesian soil, the hunt for their father's killer begins.
---
Change Location