Battle Royale
Thank you for rating this movie!
Read your review below. Ratings will be added after 24 hours.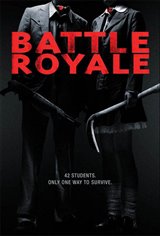 4.30 / 5
Based on 22 votes and 7 reviews
---
Please rate between 1 to 5 stars
Showing 1 to 7 of 7
June 11, 2012
i watched this film years ago and it was very good. read the manga too if you can find it! if you can handle some blood you should definitely watch this film. i can see why people think battle royale (2000) and the hunger games (2012) are similar but br is definitely a lot more gruesome but still enjoyable. both movies can hold their own.
April 08, 2012
why are people comparing it to the hunger games? it's good movie on it's own that happened to actually come out quite a long time ago, and not afraid to actually do what it's about.
April 08, 2012
battle royale (2000) 18a rating vs hunger games (2012) pg rating. wow! [br] is a lot more plot and premise than [hg] and much more going on between untrained school students facing having to survive by killing each other off by those in power. violence in [br] is visually graphic and not implied like it was in [hg], as well as killing/surviving scenarios more varied. no wonder quentin tarantino liked it. gruesome and bloody to see violent death amongst so young combatants, none fully equipped/trained for it. the tech in [br] was old, yet plot is original, rather than heavily borrowed like for [hg]. worth the see (online in my case). english subtitles.
April 08, 2012
you do realize this movie is based on a japanese book by the same name that was written in the early 90's. either way, this is a very entertaining movie. very faithful to the source material.
April 08, 2012
amazing movie! some might say the inspiration for the hunger games.. ill watch this again and again :)
April 04, 2012
lol perhaps they got the idea from the book series instead? ya think? lol
March 27, 2012
fantastic movie and in my eyes is pretty much the the inspiration of the movie hunger games or at least where they got the idea from. definately worth a watch.