MANY THEATERS ARE NOW CLOSED. WE WILL CONTINUE TO POST UPDATES.
Anthem of a Teenage Prophet
Anthem of a Teenage Prophet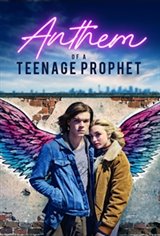 ---
Based on the award-winning novel, a teenager's gift of premonition becomes a curse when after predicting the death of one of his friends, Luke Hunter (Cameron Monaghan) is dubbed the 'prophet of death' by a local news reporter. A media madhouse infiltrates Luke's life, everyone in his Michigan hometown desperate to know more.
Luke holds everyone at arm's length - the relentless news crew, his father and mother (Juliette Lewis), even Faith (Peyton List), the girl he has secretly loved for as long as he can remember - telling no one that the premonitions keep coming.
Troubled and confused, Luke must make sense of his newfound abilities in this fast-moving tale of struggling youth..
---
Change Location