MANY THEATERS ARE NOW CLOSED. WE WILL CONTINUE TO POST UPDATES.
Affliction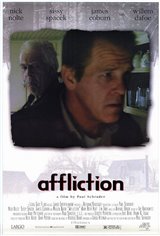 ---
Atom Egoyan
ran with the last Russell Banks novel adaptation -- The Sweet Hereafter -- all the way to an Oscar nomination. This is another one of those Russell stories about people in torment as a small-town sheriff starts to investigate a hunting "accident" that begins to drive him batty.
Shot in Montreal during the cold, cold winter, star Nick Nolte said, "The actors would do the scene and run back into the car, then Schrader would say, 'Well, what do you think?' and we'd all say, 'Yeah, that was a pretty good take.'" Guess that's what happens when you drop those Californians into a hearty Canadian winter.
---
Change Location