MANY THEATERS ARE NOW CLOSED. WE WILL CONTINUE TO POST UPDATES.
8 Remains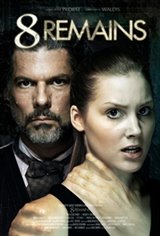 ---
The young and beautiful Talli gets choked to death by her lover Damien on her birthday. Right when she's about to die time stops and Talli finds herself in a shadow world, a distorted mirror of reality. Caught between life and death Talli has to relive the hours prior to her murder, since all paths seem to lead her to Damien, the lover who's also her killer.
When Talli finds herself attacked by him again, she manages to fight him off long enough to slip away. She escapes through a door, which only leads her deeper down the rabbit hole. Guided by the spirits of Damien's victims Talli descends into a purgatory built on the fears and regrets of her past. She has to face all of them to survive.
---
Change Location