MANY THEATERS ARE NOW CLOSED. WE WILL CONTINUE TO POST UPDATES.
55 Steps (Eleanor and Colett)
55 Steps (Eleanor and Colett)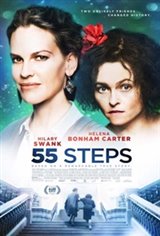 ---
55 STEPS is based on the inspiring true story of the unlikely relationship between an outrageous and wickedly smart Eleanor Riese (Helena Bonham Carter), a mental patient in a hospital that has mistreated her, and her attorney, an uptight, workaholic patients' rights lawyer, Colette Hughes (Hilary Swank). In this heartfelt tale told with humor and emotion, Colette takes on the uphill battle of representing Eleanor against the people who harmed her while the spirited Eleanor makes it her mission to mentor Colette whether Colette likes it or not!
---
Change Location