MANY THEATERS ARE NOW CLOSED. WE WILL CONTINUE TO POST UPDATES.
Grace VanderWaal Biography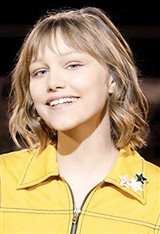 Born: January 15, 2004

In 2016, when Grace VanderWaal was just 12 years old, she went onstage at the auditions for America's Got Talent with her ukelele in hand and sang her original composition, "I Don't Know My Name." The judges and crowd went wild. Judge Howie Mandel pressed the golden buzzer, which allowed Grace to go on to the semifinals without having to do another audition. 
Each week, she sang and played another original song and each week, she blew the judges and the audience away. She earned enough votes to pass through to the finals, when she finally won during the live results show on August 16, 2017. 
Change Location